Find out the simple, proven system that thousands of people just like you are using to live their IDEAL LIFE and now YOU can too.
Do you know what you want in your life, but don't know how to make it happen?
Do you have a vision for more income, better relationships, ease & freedom in your life, but haven't been able to create it yet?
Are you looking for a simple tool and a step-by-step process that will help you achieve your biggest dreams?
Your Ideal LifeVision is a revolutionary method and tool for helping you attract more of what you want in your life through clarity and focus.

My Life Vision experience has been truly amazing. For the last few years I have really been focusing on my "goals". I have traveled the road of affirmations, visualization and the ever popular "post-it note all over your house" strategy. But still nothing was able to get me clear on EXACTLY what I wanted my ideal life to look like. That is until created my Ideal LifeVision.
For the first time I was able to achieve complete clarity on how my ideal life looks. And the convenience of being able to listen to my Life Vision recording makes it so easy to remain dedicated to my Life Vision routine. Here are a few things that have already manifested in my life in just a few short months using my LifeVision:
I now live in the house I scripted
I moved to the neighborhood I want to live in
I have achieved several financial goals
Personal relationships are coming into my life
My professional life is beginning to take shape just like I scripted it
I highly recommend that anyone who is ready to live their ideal life use the Ideal LifeVision program.
Nate Guggia, Financial Coach
Freedom FastTrack
What makes Ideal LifeVision unique?
Reason #1
Minute Clarity
The first obvious requirement to having what you want, is knowing what you want. Most people can give you a detailed list of what they DON'T want; but how many people actually articulate in minute detail the things they desire in all areas of their life? Ideal LifeVision is a minutely detailed declaration of intent/personal mission statement that includes the 5 key areas of your life: your relationships (family and social), your spirituality, your physical fitness, your financial/professional life, and your emotional/personal development.
Your LifeVision is first created on paper (or computer) in sections. It is fine-tuned and tweaked until it feels complete as an expression of the "ideal you". (Typically runs between 5-10 pages typed! Now that's detail!)
Reason #2
Focusing Daily on Your Ideal Life
Your LifeVision is then recorded (with Baroque music in the background) using a program on your computer, where it is downloaded onto your iPod (or burned to CD) and listened to daily. The process of listening daily to your Ideal LifeVision is incredibly powerful you intend to create is incredibly powerful. It is a cause in motion that literally activates and attracts the things you desire into your life.
Ideal LifeVision system puts your "ideal life" on the front burner daily, thus integrating these dreams into your life swiftly and efficiently. By listening to what your "ideal life" looks and feels like daily, you begin taking steps in that direction immediately. Because of the unique recording method using Baroque Music, even when daydreaming and not particularly "listening" to your dreams, your subconscious mind still "hears" and responds. Each and every day you are FOCUSING on what you want and the gap between where you currently are and where you want to be narrows.
By listening daily to the type of person you are becoming, your beliefs begin to change. These beliefs, which in turn create habits, begin to give way to new beliefs, thus creating new habits. This is literally a tool where you can change your beliefs and actions over a period of time thus reinventing yourself if you so desire.
Reason #3
It's not another Self-Help Program, it's an implementation system!
Like I just mentioned, there are hundreds of success and self-help titles lining the bookstore shelves. Most are a wealth of knowledge with incredible ideas based on sound principles. And yet most of us are still lacking the results we desire by reading the books. Why? Good ideas are a dime-a-dozen. How to assimilate the ideas, making them a permanent part of our lives is where the gold mine is. It's all theory until it's put into practice.
Ideal LifeVision is not another self-help program. It's an implementation system; taking your goals and ideas and assisting you in their application. From now on any time you read about or want to act upon a new idea or tackle a monumental goal, you will know exactly HOW to convert or implement it into your life. This tool can help you overcome addictions and bad habits as well.
Angela Johnson
Illuminated Woman
Let me show you how to manifest
Your Ideal Life using
The Ideal LifeVision Program
Using Ideal LifeVision you'll discover:
The Universal Laws and Principles that conspire to bring you exactly what you want….Know what they are and how to tap into them.
The 8 essential steps that are a catalyst to designing your Ideal Life, taking away the guesswork on structuring your LifeVision.
Amazing & mind-blowing results others have achieved with this system.
My expertise in showing you how to articulate exactly what you want in each unique section of your Ideal LifeVision.
Inspiring & powerfully written & recorded examples of past participants so you can create yours in a shorter amount of time.
Step by step instructions for recording your Ideal LifeVision for maximum focus & unbelievable results. Use one of 3 different methods that fit your tech knowledge and computer capabilities for easy recording.
Tips for tweaking and updating your ever-evolving LifeVision so that you're continually progressing.
How to make your LifeVision more powerful with mentoring taken from my 22 years of consistent experience using Ideal LifeVision that have produced amazing results.
Isn't it time that you felt yourself
living Your Ideal Life?
So what are you waiting for?
Take some action and get started NOW for
only $147 US!

I can't say enough about how much my life has changed from using Ann's LifeVision course and the impact it has had on my life. Ann's system is literally the next step up from "The Secret" or just thinking or envisioning your life. It is putting it into action.
Putting the affirmations on the mirror only works for so long before you look right past them. I am living proof that it works! My income has drastically increased and all that I envisioned in my Life Vision is coming into fruition. Thank you Ann for making a system where we could go from just believing to creating with applied action and knowledge.
Marci Loughmiller
CEO, Everlasting Fitness
Here's what you'll get with the Ideal LifeVision Program
The Power of Creating a LifeVision Manual (124 pages)
10 Worksheets that will help you get concretely CLEAR on your Ideal Life
Videos (online)

8 Steps to Creating Your LifeVision
Amazing Results that Can be Achieved
Why Use Baroque Music?
Using Conscious Language
How important is Motivation?
The Ever-Evolving LifeVision
Universal Laws & Principles That Support LifeVision
Why Record Your LifeVision?

Mini Classes (Audio Files)

Professional Financial mini class
Physical Fitness mini class
Relationship Mini class
Spiritual Mini class
Personal Development mini class

Video on How to Record Your LifeVision on your computer
8 downloads of Baroque Music
A program like this would normally cost thousands,
but you can have it for a fraction of the cost.
You'll walk away with a complete description of The Ideal You….Living Your Ideal Life. Your 5-8 page document will contain all the details, motivation, emotion & action plan for your Ideal Life. You will also have the tools you need to record this so you can listen to it daily on your ipod or a CD where it will imprint upon your subconscious, thus making it a reality.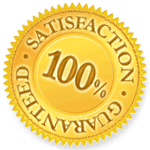 100% Satisfaction Guaranteed
The Ideal LifeVision Program is RISK-FREE.
I stand behind it with a 100% guarantee. Because I know when you implement this proven system, you'll be on your way to living your Ideal Life.
All you have to do is read the book, complete all 5 written sections of your LifeVision (email them to me) along with recording them.
That's it.
After that, if you honestly believe you didn't get a thing from the program, email ann.webb@ideallifevision.com. I'll gladly refund your money in exchange for your feedback.
That's how much I believe that this program will be the catalyst that propels you into a far more satisfying life.
I can't wait to work with you because I know it will make the difference between where you are now and where you want to be.
P.S. Don't miss out on this opportunity to craft the life you really want. Here's that link again.