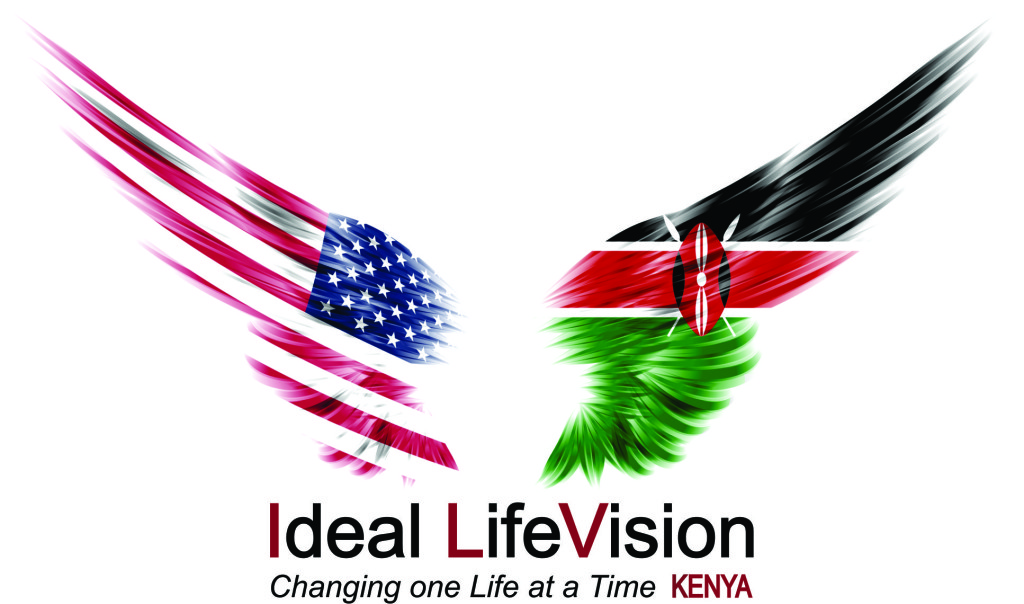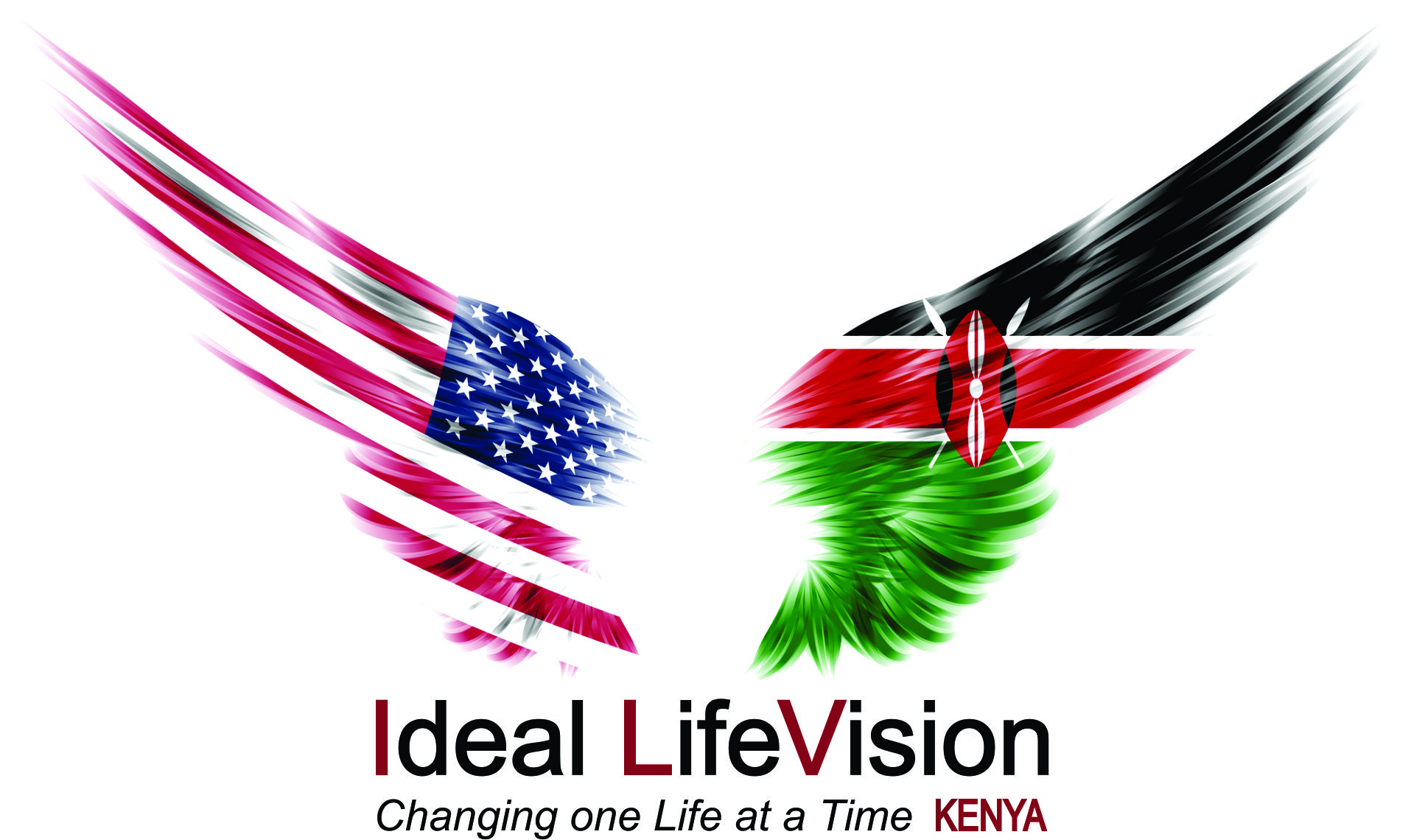 Certified Ideal LifeVision Coach Training longer circuits
Ideal LifeVision Certification gives you the ability to assist your clients in…….
Getting crystal clear on their action plan and vision

Seeing both the Big Vision and the Daily Details

Getting more out of your coaching and actually implementing it

Figuring out how to balance their business and personal life

Getting in the driver's seat and taking control of their life

Changing the neural pathways in their brains leading to a better mindset, more action and achieving results
A Message from the President of Ideal LifeVision Kenya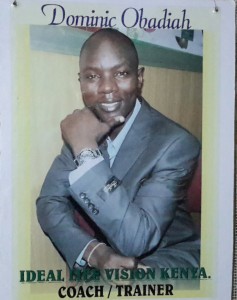 Ideal Life is the missing link in human life. It helps me achieve anything I want in my life through creating crystal clear goals.  It helps one achieve clarity, focus and positive thinking.  My life is balanced and in the right direction. I love life and am at the top of it. Do you want to realize a speedy and positive results in all areas of your life?
Ideal life is the path.
Little about me
My name is Dominic Obadiah. I am the president of Ideal LifeVision Kenya.
Being a Kenyan by birth, I have a better understanding of the local people.I know what is good for them.
I am a life coach, trained and certified by Ann Webb, founder Ideal LifeVision Utah, USA.
I am specialized in relationship and financial goal setting. Besides, I conduct workshops, one on one coaching and train and certify Life Coaches. I am a family man happily married and blessed with two children.
Requirements to Certify
Prerequisite
Be a registered Member of Ideal LifeVision Kenya (1000 ksh)
Have your own Written Ideal LifeVision
Have it sent in and given feedback by Dominic Obadiah
Must have participated or attended at least 1 Ideal LifeVision Workshop
Course Requirements
Learn how to coach a client one - on -one
Find a practice client and coach them until they have completed their full Ideal LifeVision
Critique or give feedback on your practice client's full Ideal LifeVision then submit it to Dominic Obadiah so he can review your work.
Learn how to present all the areas of an Ideal LifeVision Workshop
Attend a workshop with Dominic Obadiah and train at least 1 section and give a testimonial
Receive Certificate once the above is completed
Training
One on One Coaching
First give them the link to https://ideallifevision.com/ILVKenya with the password:  myILV
Set up a time each week that you will meet in person or on the phone to do the coaching.  You will ask them to write or create 1 section of their Ideal LifeVision each week.
In the first coaching session,  I ask them what area of their Ideal LifeVision they want to start with.
Once you've established what the first section will be start motivating them to write this section:
Get the conversation going by asking questions starting with the basics:
What are some goals you'd like to set in this area?
What do you want to be and do in this section?
Where do you see yourself "spiritually" in the next year?
Gear your mind to see beyond what they see
Keep asking "What would that look like "ideally"?
Ask them to stretch themselves but also a realistic boundary of what can be done in next 12 months.
Listen for "struggles" and make note of them and suggest they "flip that" and put it into LifeVision
Ex: Hard for me to lose weight because I work until 6:00, I'm not in the mood to go to the store, so I never have anything in fridge or cupboard. So I grab junk food and when I go out to eat, I don't pick the right menu item. It's just hard!
Instead suggest they put something like this into their Ideal Lifevision
(always have on hand the foods I need because I shop weekly. Eating out is a cinch. )
Help them paint the picture - in detail.
Go over types of things they could put in that section, giving them ideas.  Then have them read all of the samples  for that section in the booklet or on the program page.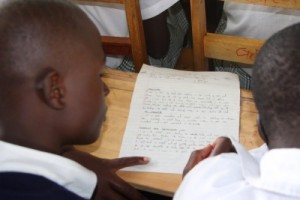 Give them their assignment to write or create that first section of their LifeVision in the next week and to send it to you via email before the next appointment (a week later)
Also let them know that you have set aside the next 5weeks for them to complete their LV and so that's it's very important that they get their work done and keep their appointments. Set the expectation right here and now that if they don't do their work - or miss their appointment, they won't finish their Ideal LifeVision.
So they  will give it their best shot and write their ILV during the week.
For the next week, the coaching session will be divided into 2 parts :  First, going over the LifeVision and giving feedback on what they have written (typically spending  about 20-25 min)  and then part 2 is doing the same thing you did last week ........ selecting another section and asking questions again.
Life Coaching in General
Experience plays a big part in being a great coach...but it's not just time and milage that produces great coaching. You need to NOTICE when something is working. Coaching is an art....not a science There is NO (one) 1 right way to coach. Mastery in coaching comes by learning to read the flow of the session and respond without trying to control it.
I've heard it said that coaching is like painting:
The medium is fluid and unpredicatable. Sometimes it wants to be concentrated and sometimes thinned out. It's both broad strokes and fine details. The composition is rarely planned through brain work. More often it is designed with the senses., in the movement because it's a living process.
So it's a great idea now to set the goal that during the next year you'll raise the bar on your coaching skills. And you do that by.....
Come out of your comfort zone
Become more intuitive
3 factors that much be present for coaching to be effective:
The coaches total focus on the client
The clients willingness to be coached
The clients agenda....meaning they get to make the discisions about where they are headed....in both their LV and the coaching sessions.
And if any of this is missing the coaching will be weak.
And it's that first one that I want to go into just a little bit more....listening deeply to your client
Sometimes you need to let clients just rant...or even ramble (to a point)
Sometimes your silence give then permission to go into what they are feeling or experience more deeply
If you're listening deeply you'll often hear things like  off beat or repeated phrases that you'll want to ask them about...("you keep saying I'm fine" but the energy with how you're talking doesn't sound that fine"
Strong or weak energy (breathlessness or an unusual pace in their speech...or sense "intense" energy...make note of it...because if it doesn't smooth out in the first few minutes...may want to point it out and ask about it
If you are truly listening, you'll be able to:
Asking powerful questions
responding intuitively
Listening is the cornerstone of coaching. Every other skill comes back to this one. The single greatest gift you can offer your client is the gift of being heard. Think about the times when someone has fully listened to you without trying to FIX you It's empowering isn't it??!!
A masterful coach hears it all and discerns it all. They know HOW and WHEN to respond to their client. Or even not to respond. As a coach...you'll develop this as you go along....You'll develop this skill far beyond your current ability
RECAP
Weekly Coaching Sessions - 2 Aspects:
Going over what they did the previous week
(they will have already emailed it to you and you willl have looked at it).
Make suggestions on how to make it more powerful (Critiquing - next training)
Spend probably 2/3 of time here.
Ask questions, make a few suggestions regarding content,maybe suggest on how to word it.
Select next section
Listen for struggles
Ask what they'll put in it, make suggestions, etc
Homework
Find your practice client and set up first appointment doing everything in the above training
Then move on to the next Training
How to Give Feedback or critique an Ideal LifeVision
How to Critique a LifeVision
Make sure client's LifeVision is in a word document and make suggestions within their text in another color (red)
Look for "negatives" and make suggestions on how to flip or just have them cross out the negative section. (I never judge or criticize other ....instead:  I'm accepting)
 Point out any future tenses ("I will" - "I'm going to" etc)
Make sure YOU can visualize what they are writing. If you can't picture it, make suggestions on making it more visual. Type out a sample sentence or two. (This is what the good coaches do :))
Suggest an "action plan" when appropriate if you feel it's lacking.
Make comments on sections or sentences you feel they "nailed it". (Tell them what's GOOD about their ILV - not just what's wrong.)
Ask after each section if it's "complete" for this version.
Consider reading aloud each paragraph as your client closes their eyes. Have them listen for words that trigger them, listen for flow of content etc.
Copy and paste samples when appropriate
Make sure there is significant motivation for each Life Section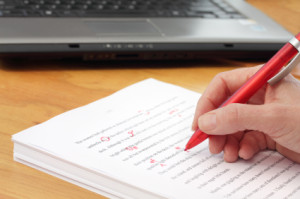 Example: Spiritual Life Vision
I love my life! I am excited to wake up every weekday morning at 7:00 a.m. First thing each day, I begin with 20 minutes of meditation, journaling and reading an inspirational quote for the day. I follow this activity by walking my dogs and being out in nature for 20 minutes. I listen to my life vision on my walk. It sets the tone for a fantastic day.! I am happy I have given myself this gift of clarity and focus. Each time I listen to it I feel more confident and energized.
**Is this a current reality? more details about meditation, journaling etc along with emotional connection and motivation. Why do you journal? Tell me more about how you journal and what it gives you. Do you have an inspirational book of quotes with you? online? Create a more "visual" picture.
I am fulfilling my responsibility to the universe by living full out and sharing that with the world. I am intuitive and find it easy to relate to others. I use this strength to support them in living full out. I am happy to *hold myself accountable each day and find satisfaction in holding others accountable. *By holding myself accountable, I end each day feeling complete and accomplished. I am a leader. I am charitable. I am humble and happy to serve.
*What do you mean by "hold yourself accountable"? Is there any negative connotation for you in that phrase?
I spend some time in nature each day. (what does this mean? Where? and what are you doing?) I reconnect with my spirit by being present and enjoying my surroundings. I am grateful for the abundant world I live in. I use the voices of angels and my own intuition to guide me. I make good decisions. I am present in every situation. I am full of gratitude. I end each day by writing down five things I am grateful for that happened today. (In journal? Is it handy? Night time routine?) I journal any thoughts that inspire me. I am reconnected to what myself and my power by completing this activity. I am complete.
Where's the stretch? What is most important that it becomes a reality now?
Physical Life Vision
I am happy with my body. I am blessed with good health and love taking care of my body. I nourish it each day with healthy foods. I love eating fresh foods including fruits and vegetables each day. (quite vague. any ideas on how to make this more "visual" and specific?) I ensure my glucose levels are stable by eating regularly. I eat healthfully six times a day. (describe a typical meal so your brain sees proportions) I drink 64 ounces of water everyday. (share how I keep track of drinking water) My body appreciates me for taking care of it. I start of my day by drinking a green smoothie and I take vitamins each night. I enjoy drinking coffee and alcohol in moderation. (Keep an eye on this and see if this backfires by "focusing" on coffee and alcohol too much) I enjoy at least seven hours of deep sleep every night.
What's your current reality? Tell me about the 6 times a day? Sleep? More motivation
I exercise consistently. I workout three times per week at Curves for 30 minutes. (How's this going? Describe your workout in detail, what it feels like once you're done along with motivation. Whole paragraph on this 30 minute workout 3X a week!!!)
I walk my dogs at least five times per week. I do yoga once a week. (Reality? Where, with who?) This helps me stay flexible and centered. I enjoy biking, hiking, skiing, gardening and walking. I am grateful to do some type of physical activity every weekend.(Put more WHY and even get more specific on those activities) I appreciate being in nature while taking care of my body. I reward myself each month by getting a massage. (Where? Who gives it? how does it feel?) I wear my body magic consistently and it helps keep my spine in alignment. I have great posture. I have a healthy body fat percentage and am happy I can be an example to others on how to live a healthy lifestyle.
I have beautiful nails and toenails. I take care of them by getting a manicure and pedicure monthly. I take care of my skin by cleansing it every morning and night. I use my masque at least once a week. I am happy with the way that I look and feel. My skin is radiant and beautiful. I am grateful for my youthful appearance and take pride in caring for it.
I have $50 each month to spend on upgrading my wardrobe. With every purchase I try a new color or style. It feels good to have new clothes that fit my body perfectly. Each time I purchase something new, I clean out some of the old. It it so rewarding to have my closet neat and organized. (Great!)
I love my home. I enjoy coming home every night to a neat and tidy space. I spend 30 minutes each day keeping up on the maintenance of my home. I spend two hours each weekend working on something on my project list. It feels good to begin to cross things off as accomplished. By June 30, 2014, our deck and balcony are complete, our landscaping is complete and our upstairs is complete. (Progress so far?) It is wonderful to spend our summer on our beautiful deck barbecuing with family and friends and soaking in our hot tub. My home is peaceful and a place for rejuvenation.
My life has balance. I am complete.
**(in discussion found that there was no belief on this. She couldn't wrap her mind around it. Didn't know how much is was going to cost. Husband was going to do it,...discovered probably only 1 thing (deck and balcony) was enough
Relationship Life Vision
My relationship with Ted is complete. He is my partner and best friend. I appreciate how caring and compassionate he is. I am thankful for his support in every aspect of my life. (another sentence or two of examples so you have PROOF!) I appreciate all of the many things he does for me. I enjoy doing things for him too.(Such as?) I am grateful that we are present for each other in all situations. I feel satisfaction in sharing the daily household responsibilities. I am grateful that we take turns making dinner and cleaning the kitchen. I enjoy having a healthy meal ready for him two days per week after a long day at work. I love to give and receive such deep love. It is so fun to share common interests. We enjoy spending time with family, music and nature. We love to travel. I look forward to planning vacations together. I am so excited for our trip to Ireland this fall. It is going to be a wonderful time with family and friends. I am grateful for our perfect balance of togetherness, time away with our friends and alone time. I love our lasting attraction to one another. I am passionate about him and look forward to hugging and kissing him everyday. I love how our bodies fit perfectly together. We enjoy one romantic date night per month with just the two of us. I enjoy being creative and planning something fun for our date nights. We have monthly meetings to discuss our finances and our goals. (add to To-Do list or calendar) This is a fun conversation because we are on the right track and it is joyful to see our progress. Our communication is easy and we can communicate freely about anything. We respect each other's opinions. We discuss our children and agree on how to handle every situation. We are a united when dealing with the children. We have patience for each other in every situation. We understand and acknowledge that we are both continuing to grow.
Great job! Is this complete? Where's the "stretch"?
I love my relationship with my children. I am happy that we can have open dialog about any subject. It is comforting to know that my children feel free to come to me with their trials and triumphs. I am supportive. I am a good listener and present at all times with my children. I speak calmly even when I'm upset. I set reasonable boundaries and teach my children to be self reliant. I am grateful that I have learned the tools of "The Millionare Mind" and am able to teach them to my children. I am happy that we have set some new ground rules (What are they and do they deserve to be in here?)and the children are following through. It is so enjoyable to have dinner together as a family at least two nights per week and share our experiences of the day. I am happy the kids are excited about cooking and learning new healthy recipes. This serves them throughout their lives.
I am grateful for the mutual respect Jase and I share. I am proud of the wonderful young man he has become. I appreciate how open minded and accepting he is. I value our one on one time together and am present when he speaks to me.! I am grateful for our mutual love of skiing and look forward to going together at least once per month during the winter. I appreciate the lessons he learns from me and the lessons I learn from him. I am grateful that he takes the roll of being an example to his younger siblings seriously.
I appreciate the relationship he has created with each of them. They all look up to him. He is a bright light in my life. I am so happy that I am his mom.
I appreciate the unique personality Jase has. I am happy to nurture it and support who he is. I look forward to spending one on one time together. I am happy with our relationship. I am proud of him for making strides to mend his relationship with Ted. I am grateful he is comfortable with talking to me.! I am glad that I have set expectations with him and he follows through with them. I look forward to spending time together skiing or doing other activities at least one day per month. I am happy he is making positive choices in his life and is choosing to eat healthfully. I am excited to be a part of his future and all that it brings.
I am so proud of Sophia. She is beautiful and a joy to be around. I admire her dedication to dance and guitar. She is a beautiful artist in so many ways. I am happy to nurture her talent and support it in every way. I look forward to our trip to NYC in October with ______ and _______. I cherish all of the bonding moments we get to spend together at her dance conventions. I am proud of the young lady she is choosing to become. I look forward to spending time together at her upcoming conventions this year. I look forward to supporting the young lady she is becoming and being a positive example to her.
I am happy that Lisa and I are in such a great place. It feels good to have overcome our challenges from the past. I enjoy our light conversations that are free from judgement. I enjoy the limited time we spend together. She is a beautiful young lady and has made good choices in her life. I am proud of her for being a great student and taking her school work seriously. She is a good example to the other children on how to be a good student. It is fun to watch her cheer and do something she loves. I look forward to watching her grow, attend college and become independent. I am happy to watch her make choices that best suit her without worrying what others will think.
Awesome!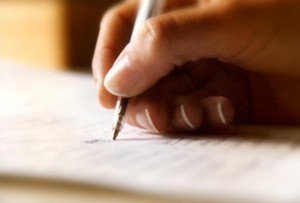 Professional and Financial
I am on top of my financial life!!! I am living life filled with abundance and prosperity. Because I am financially free, it allows the CHOICE in my life. I earn $200,000 or more by December 31, 2014. I have extraordinary money-handling capabilities and have mastered the finances of both my personal and family financial affairs.
Money flow to me naturally, easily and comes to me in avalanches of abundance in unforeseen way. (Do you work for it as well? Will this sentence create the belief that it will come to you without doing anything?) I now have more money than I need to do everything I want to do. Money. I am making positive choices about what to do with my money. Every day, my income increases whether I am working, playing or sleeping. People love to pay me money, join my business. I spend 15 minutes a day practicing my enthusiasm and urgency. I read and master the "Art of Recruiting" by Sept 30,2014. I read one financial/business book per month. (such as.....name 1-2 more)
I now express myself as how specializing in serving others and helping others with their aging challenges.
As an Anti-aging specialist distributor with NuSkin Enterprises I am on top of my financial life!!! I am financially free with a residual income of $10,000 per month. I am living a life filled with abundance and prosperity. Because I am financially free, it allows me CHOICE of my life and peace of mind. (you said this in first paragraph - did you mean to do that? Do you like that or will it bug you?)
I am enthusiastic and have a strong sense of urgency because I know and believe I am serving other people by helping them feel and look younger, taking years off their looks and creating beautiful skin. I am committed to spending 15 minutes per day practicing presenting with Enthusiasm and Urgency. (for my own clarification can you tell me what you mean by this as I don't understand it - and you know you wrote that in first paragraph as well ??) write my schedule the night before and scheduling/devoting a minimum of 3 hours to NuSkin to achieve my financial goals. (I would suggest detailing, at least loosely what those 3 hours consist of)
As God's voice, I ask all the right questions when I talk with new people. I easily attract 4 motivated people to join NuSkin by October 31, 2014 as my business partners. (This comes as a result of my consistent effort in networking, meeting new people and then using my skills to present the NuSkin Opportunity.) I assist them in becoming Executives using the Flight Plan within 1 month. I am peaceful and excited as I train my new partners. I easily and effortlessly perform 3 demos per week, develop 3 new customers per week beginning now thru Dec. 20, 2014. I am in partnership with 4 other energetic, enthusiastic tenacious people whose goal is financial freedom.
I am extremely confident and in awesome state. I am marvelously organized. I live within current budget. I use my time efficiently. I love to call on new customers and know exactly what to say, what questions to ask.. I build my sales to a min of $3,000 in October, $5,000 in November and $10,000 in Dec. while developing executives. I build 1 executive each month for the next 15 months. . I attend 4 networking events per month establishing and building friendships, partner base and clients.
I am beautifully clothed from what I own currently in my closet. A gift of Financial freedom allows me to shop for any clothes and designers of my choice. Clothes Shopping is one of the passions in my life. I am dressed beautifully and look drop dead gorgeous each time I leave the house. I dress with enthusiasm and excitement. I am excited about the passion in my life. Donating my clothes assist other women promoting their lives. While saving money creates peace of mind and joy allowing me more time for community service. I love community service knowing I am helping others My hard work pays off it is June 2015, I move into a beautiful home on the hill and no longer perform design services. I have financial means to travel first class with my children. (desired location?) As I live within my current budget, financial abundance comes to me in avalaches of abundance allowing me to budge a gym membership in Oct, sailing and golf lessons in the sp. I successfully save 10% (specific amount) of income and tithe 10% to the Unity Church of Grapevine. I successfully save 10% of my income.
Personal Development
I love to write. I write in my journal twice a week and love to get my feelings out and down on paper. This allows me to focus on other things in my life like being a great dad and focus on my work.
I am also a cellist. I love to play the cello and practice 5 times a week. I will play Christmas music on the cello for my kids this Christmas. I will play 3 pieces from memory to help bring the Christmas spirit to my little home.
(can you give yourself a definite idea or a rough idea of when you'll practice these 5 times as well as the journaling?)
I am an amazing dad. I LOVE to spend time with my kids and be with them. I spend time daily with Isabel on her homework and we both enjoy this time together. I also spend time with Evan learning to read. We both enjoy this time together and we build a tight bond because of it. All of us love to spend time going on walks, learning to ski, watching movies, going to the skate park, swinging on swings. We become very close because of this. Because of my bond with my children I am able to minimize the impact of this difficult time in their lives, they know that I love and care for them and they will grow up well rounded people with confidence and avoid the difficulties that other children from broken homes have. (Great paragraph but should be in relationship section :D)
I love to read and find that good books are a solace from stresses of daily life. I am able to read 30 minutes every day before bed before falling to sleep. I read business books, self help books, marketing books as well as spiritual books. I read at least two books a month. Found it helpful to name a few ?? Good job
Speaking skills- (nothing or I have amazing speaking skills) I am great a speaking in public as well as conveying my onion in smaller groups and meetings. My thoughts are organized and moving. I speak clearly and with a voice. My inner voice is valuable and I don't extinguish it (and I project it regardless of different opinions) just because of someone else's opinion is different than mine. I am able to remember facts, names and dates of relevant facts quickly and easily.
I am able to use and retain Japanese. I have friends that I can speak Japanese with on a regular basis. I am able to travel to Japan for work and pleasure on a regular basis and also use my language there for both. I think in Japanese and build my Japanese business vocabulary through speaking, studying and reading in Japanese. I maintain my Japanese through praying in Japanese as studying vocabulary regularly. (Awesome!!)
Photography, I love to take artistic and portrait pictures. I am able to save up money to get a new camera by people paying me to take pictures for them. My new camera is nice and has all the necessities to take professional pictures. (This seems kind of vague to me. How committed are you to it? If it's not something major for you, it's probably ok. But if you really want that new camera, i'd suggest putting in the name of the camera and even the accessories. And put more emphasis on how you atrract people that want their picture taken. "My friends and family and associates know that I have a gift in photography. Because of this, they are great about spreading the word that i am available to take professional photos". I average 1-2 sessions per month, charging ______________. By _________________ I am able to purchase my new ________________(camera) along with ____________________accessories.
Training a Workshop