Pay It Forward
2 Flares
Made with Flare

More Info

'>
2 Flares
×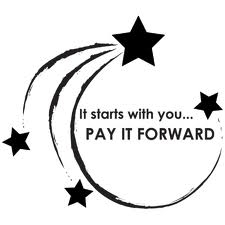 The expression "Pay It Forward" is used to describe the concept of asking that a good deed be repaid by having a good deed passed along to someone else instead. The phrase popularized by the movie by the same name suggests that the world can and must become a better place. In the movie, a 7th grade teacher poses the assignment. "Think of an idea to change our world-and put it into action! One student thoughtfully comes up with a math formula….strange it seems…until you think about it.
Just imagine, you do a favor that really helps someone and tell him or her not to pay it back, but to pay it forward to three other people who in turn, each pay it forward to three more. Does it seem like an overly utopian idea? Can we really make a difference? Could it really work? Is it possible?
The real beauty of the success of Paying It Forward is that it can be the small things that make the biggest differences. Open a door for someone, smile, or help someone needing a helping hand. Those small acts of kindness will create a shift in the minds of people all over the world and it is happening now.
A heart centered movement focused on bringing the attention to the vital importance of the human connection has been organized and launched by Charley Johnson: An entrepreneur and former Owner/Executive V.P. of a Manufacturing company with over 250 employees has a deep passion for Pay it Forward.  Believing in Pay it Forward so much so he left his company, career & millions behind to change the world and how people view humanity.
Charley Johnson is now the President of the Pay it Forward Foundation and creator of the Pay it Forward Bracelet, a physical reminder to do good that has been sent to over 1 million people in 112 countries. Find out more how you can join the movement that can and must change the world at the Pay It Forward Experience. http://www.pifexperience.org/
Can we really change the world by helping people three at a time? The answer is simple…you do the math.
Think Big. Start Small. Pay It Forward.
2 Flares
Made with Flare

More Info

'>
2 Flares
×