Get Married ! Use Ideal LifeVision
3 Flares
Made with Flare

More Info

'>
3 Flares
×
Lucky at Love ??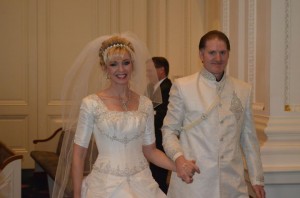 Being Valentines Day, I thought I would post something "Love" related that completely and totally brings a smile to my face! Yesterday, February 13 I had the opportunity to be a bridesmaid at one of my best friend's wedding ~ Tara Starling.
Tara and I became acquainted about 3 years ago when she attended one of my LIVE Ideal LifeVision Workshops. Back at the time – which she will fully admit – her life and her relationships were a bit rocky. Many of our conversations included tears because of the ups and downs of life (we all get it!)
But as she began using Ideal LifeVision – things started happening both personally and professionally. I have used her testimonials and "updates" many times as the transformation began.
But yesterday was the CROWNING EVENT – Tara married her Prince Charming (wow – I just had a tear myself as I typed that!)
I'll let her explain!!
Tara is my 18th client that has gotten married as a result of using Ideal LifeVision (No – it's not just LifeVision but it definitely played a part).
How can this happen?
Once again – Ideal LifeVision is about CLARITY and FOCUS. Tara, as an example was very very detailed and clear about what she wanted in a relationship. And interestingly enough, when you are CLEAR the universe works it's magic and gives you the opportunity to receive what you've been asking for. It's insanely cool!!

What she was seeking to "attract" showed up. And she paid attention.
Congrats to Mr and Mrs Kevin Shelley!!
**Now I'm going to go see if I can secure the domain www.wannagetmarried?.com
3 Flares
Made with Flare

More Info

'>
3 Flares
×
Tags: