Life Is Like A Game of Tetris
17 Flares
Made with Flare

More Info

'>
17 Flares
×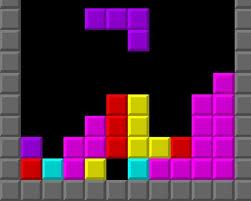 Life is sometimes like a game of Tetris, things just keep coming at you one by one. Sometimes they all fit together and work out nicely and sometimes they don't and there is nothing you can do to stop them from showing up.
The game can come at you from left and right and center and just keep coming faster and faster and if you don't find a way to sort them all out they just pile up until with unrelenting speed and chaos, before you even know what is happening… across the screen of life flash the words…GAME OVER!
How does something starting out be so exciting and yet can become such a mess of misfits and misalignments in life? A new game typically starts out easy, you can even afford to make a mistake here and there but as the game goes on suddenly unknown things can come at you…piling up. The demands don't always fit neatly into your life and you have to figure out how they all fit. You even might start making mistakes and those mistakes especially later in the game of Tetris and in the game of Life can be costly and too many of them can cause anxiety and a sense of hopelessness.
You never know the shape of things that will come into your life. They come in the shape of a 4 square block or a financial stress, an L or a difficult relationship, a stick or a health concern, a T or a career set back. At times life can be running smoothly, everything you need next is given to you, the thing that shows up next in life is exactly what you need to succeed in winning the game. And yet there are times when things come your way that just don't fit, that create unbalance, that seem unfair or cause you unwanted fear, doubt, and pain.
You are constantly needing to make decisions, and sometimes forced to make quick decisions, you may second-guess your decision or you may change your mind, you may even panic at the last minute, not knowing what to do. Those quick decisions sometimes work out, saving a lot of heartache and sometimes that last minute decision can't save the day and only makes things worse leaving you stuck with the ever-building consequences.
There are times you have to be patient to see how things are going to line up in the end before committing to a final decision. You may make a bad decision along the way and all you can do is the best you can to repair the damage. And sometimes no matter how hard you try you cant seem to reach the score you are working towards.
Things can come at you, creeping in slowly or at times rushing in at an unforgiving and relentless pace; you no longer feel in control, you are astounded, confused, and bewildered at what is now happening. You had such control at one time, and now the unmerciful bombardment of blocks causes you to scream out in anguish…How did this happen!  What went wrong!
You may desperately need a stick in life but instead it throws you an L. You cry out "I don't need an L in my life right now, I need a stick!" Times you feel overwhelmed, frustrated, and discouraged. You just want to quit and throw it all away screaming:
I hate this game!
I don't want to play anymore!
I am failure at this game!
Why can't I win!
At times you just don't know how much more you can take.
Some things create a temporary block and some create blocks that prevent you from building your life to its highest level. They may even wipe you out for a while. Maybe you are sure things will fit and in the end they don't. Maybe you can clearly see what is coming next and it gives you encouragement to go on with excitement and sometimes you see what's coming and you just want to give up.
When the trauma of that unwelcomed block in your life begins to fade into the rhythm of all that is surrounding it things begin to settle down until slowly as layers of control and peace and serenity drape the intruder, the presence of it begins to fade and the threat slowly disappears into your distant memory as you move on.
In the end it is really all about trying to sort out the planned and the random things that can come your way. Not all of the pieces may fit. You might miss a row or two but you can make up for it later and do your best to get back on top of things. Sometimes you make a mess of things and sometimes you make it all work, but you just have to keep playing and keep going and things will eventually fall into place.
Sometimes all we can do is focus on the piece that we have been given and try to figure out how best to play it. Whether the piece comes in the form of a four square block, or a stick or an L or a T leaving you with the decision of which way to flip it or turn it and place it with the least amount of disruption to the overall goal.
All you can really do at any point in the game when things are not going as planned is to take a deep breath, begin with new resolve, be as prepared as possible, adjust to whatever comes your way, make a decision and do the best you can because the game must go on and when things pile up…. just start a NEW GAME with renewed determination and perseverance and courageously declare…
THIS TIME I WILL WIN!
17 Flares
Made with Flare

More Info

'>
17 Flares
×