Good King Wenceslas
1 Flares
Made with Flare

More Info

'>
1 Flares
×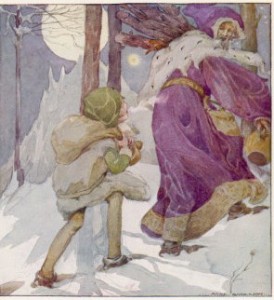 It turns out the popular Christmas carol Good King Wenceslas written by John Mason Neale in 1853 is more that just a catchy tune with a King's name no one quite knows how to say and words that no one quite pays attention to. But this popular Christmas carol actually has a lot to say about miracles, love and service. The legend is based on the life of Good King Wenceslas, who wasn't actually a King but a Duke, the Duke of Bohemia Wenceslas. He was given the title King many years after his death because of his many acts of kindness towards the needy and the poor.
The Duke Wenceslas was known as a kind and generous man, who had been raised by his loving grandmother. One day, on the Feast of Stephen; the second day of Christmas, December 26 Wenceslas went for a walk with his page. While on their walk, Wenceslas see's a poor man gathering wood. Wenceslas' heart is stirred; he feels compassion for this man of little means. He asked the page if he knew the poor man, the page tells him that he doesn't know his name but he knows where he lives. Wenceslas then gathers food, drink and logs and asks the page to take him to the poor man's home.
It was very cold that day and as the night grew dark and the wind grew strong the page was hesitant as he trod through the deep snow. He became very cold and didn't know if he could go on.  Wenceslas told the page to walk in his footsteps and he would not feel the cold. When the page stepped in Wenceslas' footsteps he actually felt a heat from his imprints in the snow…a miracle of love and service.
What Christmas miracle will you create this year with simple acts of kindness, love and service? Ye who now will bless the poor, shall yourselves find blessing. 
Good King Wenceslas
Good King Wenceslas looked out
On the feast of Stephen
When the snow lay round about
Deep and crisp and even
Brightly shone the moon that night
Though the frost was cruel
When a poor man came in sight
Gath'ring winter fuel
"Hither, page, and stand by me
If thou know'st it, telling
Yonder peasant, who is he?
Where and what his dwelling?"
"Sire, he lives a good league hence
Underneath the mountain
Right against the forest fence
By Saint Agnes' fountain."
"Bring me bread and bring me wine
Bring me pine logs hither
Thou and I will see him dine
When we bear him thither."
Page and monarch forth they went
Forth they went together
Through the rude wind's wild lament
And the bitter weather
In his master's steps he trod
Where the snow lay dinted
Heat was in the very sod
Which the Saint had printed
Therefore, Christian men, be sure
Wealth or rank possessing
Ye who now will bless the poor
Shall yourselves find blessing 
1 Flares
Made with Flare

More Info

'>
1 Flares
×