Failure is an event, not a person.
0 Flares
Made with Flare

More Info

'>
0 Flares
×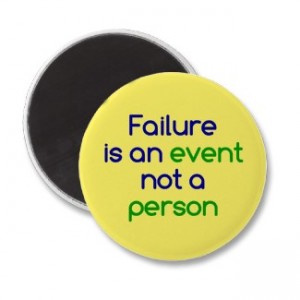 Today Zig Ziglar died – may he rest in peace.  When I heard the news, in my mind, I repeated a simple quote attributed to Zig that's reality has blessed my life.
"Failure is an event, not a person.  Yesterday ended last night."
If we truly believed that a simple mistake, a single failure, a momentary lapse was just THAT – we would live our lives differently because we would THINK differently.
How would your life be different if you viewed your failures as compassionately as you viewed your small child or close friends failures?
Aren't we always reframing "failure" for others . . . . .
"It's fine . . . just Fail forward and keep going"
or
"Failure is simply the opportunity begin again – more intelligently because of what you learned from it."
How many times have you comforted someone with a variation of those words….
I have learned that the faster we can "get over" our failure – or in other words,  the feelings that come with our THINKING associated with our perceived failure – the more happy days we have in our life.
Recently I nearly sabotaged my entire trip to India by inadvertently offending our sponsor.  Without thinking, I sent an email that was taken with offense and I was chastised and told that maybe we needed to "rethink" the trip. To say I was devastated would be an understatement.  I tormented myself with self-doubt, beating myself up emotionally, loathing how I handled the situation.  I visualized my team blaming me, being angry with me, losing thousands of dollars, etc.
For 2 days I took on "I'm a failure.  I have failed my team.  I have failed myself.  I have failed those waiting for me to return."
And I was MISERABLE.  No joy or happiness could get through the thick wall of FAILURE.
I lost 3 days of my happy life.
But it turned around, the situation was resolved.
While in India, I pondered on that situation and I pondered on Zig's lesson – "Failure is an event, not a person.  Yesterday ended last night."
Once again another situation arose (because you are destined to repeat until you learn).  And again, I got to decide.  What would it be?  Would I take on "I'm a failure.  This is horrible"  Why did this happen like this?
Or would I remember – it's just an event and the event is now over.
This time – I lost less than 30 minutes of my happy life.
Thanks Zig for a lesson that has become a Life-Changing Lesson.
0 Flares
Made with Flare

More Info

'>
0 Flares
×
Tags: